Podgill Viaduct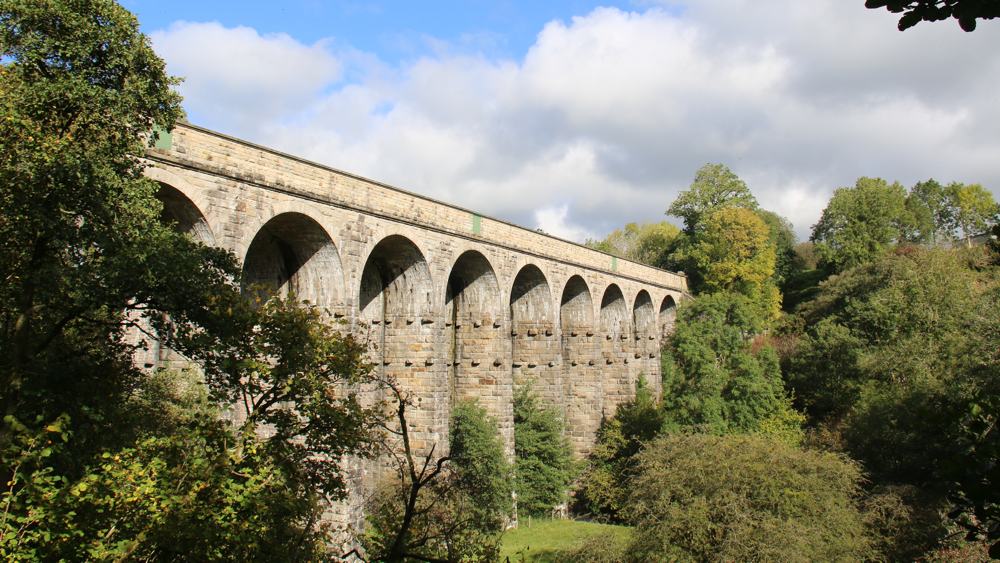 Podgill Viaduct is a listed Grade II structure about one and half miles east of Kirkby Stephen East Station and crosses the very attractive valley of Pod Gill down which flows the Ladthwaite Beck. It is built of local limestone and has 11 arches, each of 30 feet span, giving it a total length of 466 feet, and a maximum height of 84 feet. Originally only 12 feet wide between parapets for single track, it was designed by the famous Cumbrian-born engineer, Thomas Bouch and built by contractors Chambers and Hilton at a cost of £6,189.
Chambers and Hilton also built a section of line between Smardale, starting east of the viaduct, to Rookby Scarth, a mile or so north east of Podgill, four and three quarter miles in total, at a cost of £32,818. Doubling of the line between Kirkby Stephen and Belah, including the widening of Podgill Viaduct, was authorised by the directors of the North Eastern Railway on 5th September 1889, the work probably being completed about three years later. This task was undertaken by building a new, almost identical, viaduct alongside the existing, to which the new structure was tied.
Podgill Viaduct was acquired by the Northern Viaduct Trust direct from the British Rail Property Board in 2000.
The viaduct was restored and waterproofed, and a path provided along the track bed of the old railway from Stenkrith Park, with access for pedestrians, cyclists and wheelchairs, linking also with several existing rights of way.
Please see our 'Walks' section for further suggested walks and a map.
You can access the walk to both Podgill and Merrygill viaducts from the Stenkirth Park car park in Kirkby Stephen.  On the south side of Kirkby Stephen on the A685: just after the railway bridge, if travelling north, turn right; and just before the railway bridge, if travelling south, turn left.  At the end of this road, Station Road, turn right and the car park is just over the bridge on your right.  The nearest post code to Stenkrith Park is CA17 4SZ.